June 11, 2022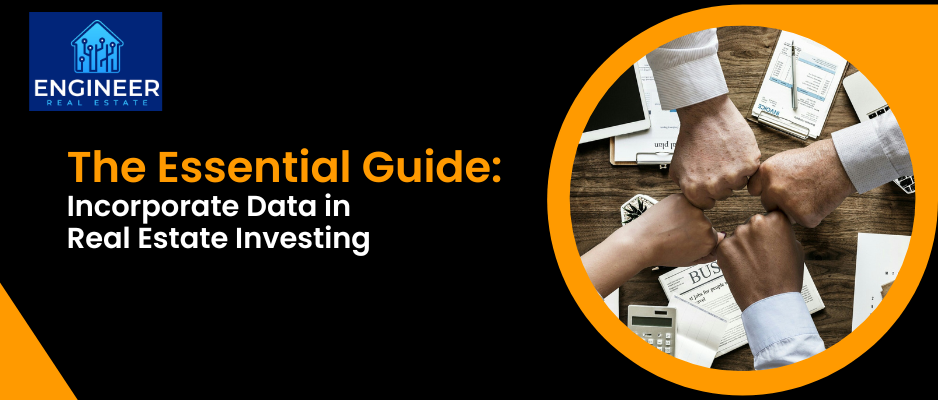 How to Incorporate Data When Investing in Real Estate: The Essential Guide
Real estate has been an important and lucrative investment option throughout history. Whether you're a first-time investor or a seasoned pro, incorporating data into your real estate investing strategy is key to your success. In this guide, we'll walk you through the essential steps of data analytics when it comes to real estate. We'll help you identify which data is relevant and how to use it to make informed decisions about your investments. Let's get started!
The practice of analyzing data to make a decision is known as data analytics. In the context of real estate investing, data analytics can help you understand trends in the market, identify potential investment opportunities, and make better decisions about your investments.
Types of Data
There are a few different types of data that are particularly relevant to real estate investors:
- Real estate property data: This includes data on individual properties, such as sale price, size, and location.
- Real estate market data: This includes data on prices, sales volume, and other indicators of market activity.
- Economic data: This includes data on economic indicators such as employment, inflation, and interest rates.
Data: A Decision-Making Tool
Economic Data
The real estate market is only one part of a complex ecosystem of the country's economy. While the market may move seemingly independently from other assets such as stocks, bonds, inflation, and gold; they are all interwoven together.
It is essential to keep up with the macroeconomic state of your region or country as a whole. As inflation rises or policy comes down from the government this affects real estate from the perspective of tenants' ability to pay rent, taxes on your building, and movement of businesses and jobs causing an influx or fleeting of potential tenants.
Real Estate Market Data
When it comes to real estate investing, market data is one of the most important tools you have at your disposal. Real estate market data can help you understand the current market conditions and identify potential investment opportunities.
Localizing on smaller pocket markets is one strategy that allows an investor to become an expert and move extremely quickly in making a go-no-go decision when a property comes up for sale. Identifying these markets is difficult if you are looking outside of where you live or have regular familiarity with them.
In cases like this, one of the best ways to take action is to visualize trends of data on a larger scale to predict high buyer activity, movement of appreciation, and anomalies in the market.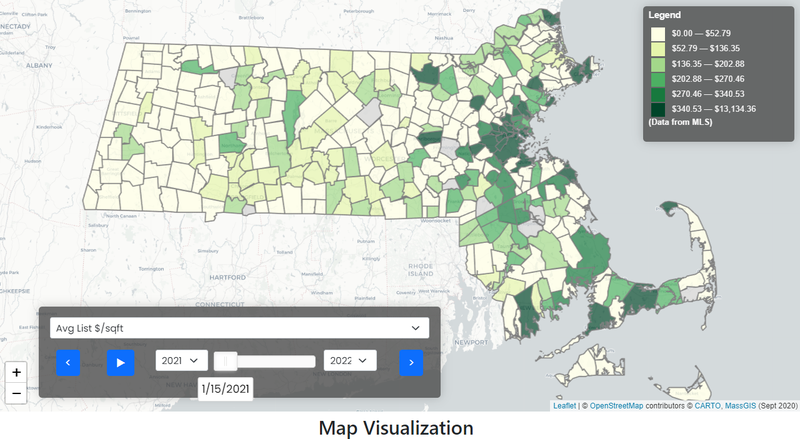 Real Estate Property Data
Once familiar with a market, there will be many commonalities between different properties within that market. Becoming familiar with these items allows you to easily address any issues or items that need to be fixed, repaired, or of concern. When looking at individual properties several key factors can allow you to quickly determine the worth or potential worth, such as price per square feet (sqft), price per unit, and average days on market (DOM) to name a few.

Resources
To be successful in real estate investing, you must be able to comprehend and utilize the data available to you. The good news is that there are several resources available to help you get started, including online tools, books, and articles.
Listings and Inventory
Realtor.com
Trulia.com
Zillow.com
Redfin.com
Movoto.com
Local Multiple Listing Service (MLS)
Podcasts
"Real Estate Today" (Stephen Gasque, Melissa Dittmann Tracey, & Bill Thompson)
"REconomy" (Mark Fleming & Odeta Kushi)
"BiggerPockets Real Estate Podcast" (David Greene & Rob Abasolo)
"Black Real Estate Dialogue" (Sam Dolciné)
"RentPrep for Landlords" (Andrew Shultz)
"America's Commercial Real Estate Show" (Michael Bull)
Passive Real Estate Investing (Marco Santarelli)
Real Estate Rookie (Ashley Kehr & Tony J Robinson)
Blogs and Other Resources
www.bloomberg.com
www.biggerpockets.com/forums
www.rentometer.com
www.affordanything.com
www.realwealth.com/category/article/
www.retipster.com/blog/
Engineer Real Estate Resources & Tools
---
---