June 19, 2022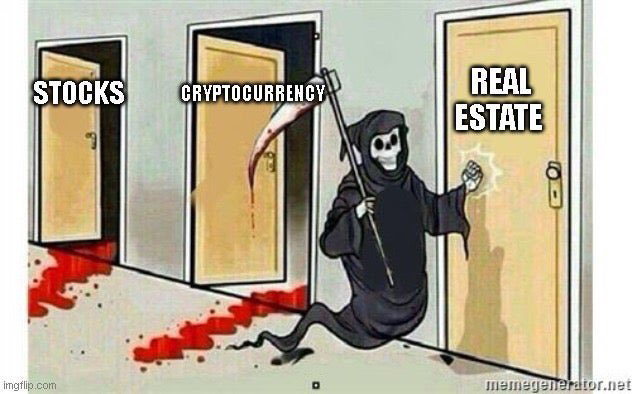 Could the Real Estate Market be Next to Crash?
The real estate market has been booming for the last few years. Home prices have been increasing and demand has been high. However, there are signs that the real estate market could be next to crash. Stocks are dropping, cryptocurrency continues to crash, and now there is increasing competition among sellers. If you're thinking of buying a home or investing in real estate, you might want to do so while the market is still hot!
Stocks
Days of throwing money into the stock market and everything going up seem to be behind us, at least for the near term. The DOW Jones Industrial Average is down 17% year to date (YTD), the S&P 500 is down 23% YTD, and the NASDAQ is down 31% YTD.
Cryptocurrency
Cryptocurrency has become exponentially popular over the last decade with much of the popularity and growth coming in the last two years. In late 2021 it was estimated that the crypto market was worth more than $3 Trillion (Time Article). Bitcoin is down 61% YTD, Ethereum is down 74% YTD, and many 'meme coins' (e.g. Dogecoin) have either gone to $0 or have dropped even further.
Real Estate
So why would the real estate market be any different than these two other markets as the country is on the road to recession? The real estate market has been booming for a few years, with home prices going up and demand being high. Home prices have gone up by approximately 20% across the country from April 2021 to May 2022. (World Population Review) For many markets, the demand has remained high while markets have been unable to accommodate. For example, the Massachusetts multi-family market has sat below 1 month of market supply for most of the year, just reaching 1.26 months of market supply in May 2022. (Market Supply is determined by the amount of listing inventory and how many months it would last the market if no more inventory was added).
The main support for the real estate market is the fact of supply and demand. In many markets where the supply is low, as indicated in the Massachusetts (MA) market, and the demand is high, indicated by the speed at which inventory is leaving the market as well as the pricing competition (on average sale price is 2% over asking price in MA multi-family properties). While the supply continues to remain low with the current demand sustaining, the market is unlikely to crash. Rising mortgage rates will affect the demand and what investors and homebuyers are able and willing to pay for properties, but this is not likely to cause a crash but more likely to cause a cooling of demand and price growth. However, keep an eye out for increasing supply that trends to stay on the market for extended periods, this may indicate the next real estate bubble!
Conclusion
It's been a tumultuous year for the stock market, cryptocurrency markets, and even the real estate market. While some investments have seen great losses, others (like real estate) have held their value or even increased in price. So what does this mean for you? If you're looking to invest your money during these uncertain times, it might be worth considering putting your money into real estate. With interest rates still relatively low and demand high, now may be a good time to buy property!
---
---